Aerospace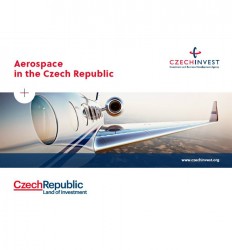 Introduction
The Czech Republic has a long aviation tradition and has always had a strong presence in the aerospace sector. Over the years the country has made a name for itself based on outstanding quality, reliability and innovation in the industry. From basic production to final aircraft assembly and cutting-edge research and development programmes, the local aerospace industry has progressed significantly and simply cannot be overlooked. Today most Czech companies and institutions work with top industry players on various levels and take part in multinational joint programmes or research projects.
Our history in manufacturing excellence speaks for itself:
32 000 aircrafts and 37 000 engines delivered
11 000 aircraft equipped with hydraulic and fuel systems
Well-developed supplier base
Aerostructure programmes with global market leaders
World-class aerospace R&D centers
Dedicated educational programmes
Modern airport infrastructure and MRO facilities
---
"As a two-time foreign investor in the Czech Republic, I speak from the positive experience of selecting a country partner for my business that brings me an exceptionally talented and educated workforce, a business environment that is non-intrusive to our operations and growth, and a location at the center of Europe. There are countries with lower wages, but in our high-technology aerospace business it is the superior productivity and the innovative nature of the local people that makes the Czech Republic a smarter choice."
Christian R. Nielsen - CEO and Owner, Aveo Engineering Group
---
Space industry
Throughout their history, Czechs have traditionally had a strong connection with space, and that still holds true today. The Czech Republic has been an active member of the European Space Agency (ESA) since 2008 and today the ESA represents the main opportunities in Czech space activities in terms of maximising benefits to society as a whole. We are proud that the European Global Navigation Satellite Systems Agency (GSA), the institution that is responsible especially for marketing, security matters and exploitation of Galileo and EGNOS, recently relocated to Prague from its temporary headquarters in Brussels. This opens new opportunities for Czech companies and their partners and encourages them to exert greater effort in research and technological innovation in order to stay ahead.
Find out more about Czech space activities at http://www.czechspaceportal.cz
---
Contact:
Should you be interested in more information please do not hesitate to contact us at aerospace@czechinvest.org
Attached files
| Description | Type | Size | Date |
| --- | --- | --- | --- |
| Brochure: companies at a glance • space activities in the Czech Republic • business development support etc. | | 1.4 MB | 10 Oct. 2017 |