Prague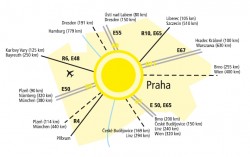 Location
Only a few cities can boast such a rich history and culture, university education and dynamic economy as the capital of the Czech Republic - Prague. This metropolis, with a population of 1.18 million is the seat of the president, government, parliament and other state and international institutions. Prague lies in the heart of Bohemia and is an important European transport junction due to the geographic position of the Czech Republic in Central Europe.
Investment climate
Prague is one of the most significant economic regions in Europe, and its economy differs from that of other Czech regions in terms of both size and quality. Nearly a quarter of the country's GDP is produced here, the unemployment rate is low, and wages are high. These are features typical of developed capital cities along with orientation toward the tertiary and quaternary sectors, heterogeneity of industry and a multicultural business environment. The position of traditional branches of industry has been declining for decades and there has been a substantial shift towards service sectors playing an essential part in the present economy. Administrative, business and banking services are concentrated in Prague. Education, consultancy, media, the film industry, real estate, transport and construction are of great significance as well. With millions of visitors enjoying the delights of the capital each year, the tourism industry is highly advanced.
Leisure time and tourism
Historical and modern, quiet and pulsating, poetic and pragmatic, such is Prague. The city's physical beauty attracts millions of visitors annually. Prague offers everyone plenty of possibilities for rewarding leisure-time activities. It is often called 'the town of a hundred spires' - there are not many places where one can see a cathedral, castle, church or other historical sight wherever one looks. Prague's most famous sight is the view of Charles Bridge across the Vltava River with Prague Castle in the background. Prague Castle, with the majestic St. Vitus's Cathedral and quaint Golden Lane is admired by tourists from around the world. Old Town Square with its astronomical clock, bustling Wenceslas Square and the post-modern Dancing Building garner much attention as well. Prague is home to a plethora of cultural opportunities and momentous cultural events. There are many also numerous conference in Prague, of which the most well-known are the Congress Centre, Trade Fair Palace and Sazka Arena.
For more information visit the Portal of Prague
Attached files
| Description | Type | Size | Date |
| --- | --- | --- | --- |
| | | 522.14 kB | 28 Apr. 2017 |