Olomouc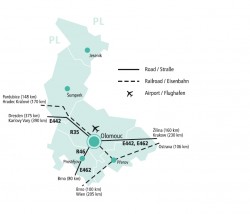 Location
The Olomouc region is situated in the northwest of Moravia and borders Poland to the north. The main city is Olomouc ( population 100,000) and other important towns are Přerov, Prostějov, Hranice, Šumperk and Jeseník.
Investment climate
The primary sector still plays an important role mainly due to fertile land for growing intensive plants. The secondary sector is oriented toward the engineering, food, textile, wood and chemical industries. The tertiary sector is characterized by high-quality university education and spa services. At present, new types of investments are entering - electrical engineering, nanotechnologies, biotechnology, information technologies and outsourcing. Economic clusters are becoming more prominent, for instance the Czech Trailer and Accessories Cluster and the Czech Nanotechnology Cluster, which should bring scientific know-how to the local economy.
The northern part of the region, with less developed industry and infrastructure could offer investment opportunities in tourism and cross-border trade with Poland.
The potential for economic growth also consists in access to low-cost labour, low costs of parcels and industrial tradition of the region
Leisure time and tourism
The Olomouc region offers a broad selection of leisure activities. The Jeseníky Mountains offer hiking, cycling, stays at cottages and skiing, while the region's towns provide water parks, sport centres, climbing walls and golf courses and the countryside attracts visitors with agrotourism and spas.
The region's rich history is reflected in the presence of castles and châteaux, as well as in the astronomical clock and Holy Trinity column in the city of Olomouc, both of which are UNESCO protected landmarks.. Natural beauties in the Jeseníky Mountains and karst caverns are among other places of great interest.
The Olomouc region offers a wide range of leisure activities. The Jeseníky Mountains are a popular destination for hiking, cycling and skiing, and the region's beautiful landscape also includes several caverns. Extensive services in the field of agrotourism are available to visitors, while water parks, sports centres, climbing walls, golf courses and, of course, shopping centres can be found in the region's cities. In addition, visitors can take the waters at several spa centres in the Olomouc region.
The region's rich history is evident in its ancient castles and chateaux, such as Bouzov Castle near Olomouc and the Manor of Velké Losiny. The Svatý Kopeček pilgrimage site lies only 10 km from the city of Olomouc. The Olomouc city centre is adorned with an astronomical clock that rival's Prague's in its intricacy and the Column of the Holy Trinity, a UNESCO protected landmark.
Golf enthusiasts will find high-quality facilities at Golf Club Olomouc (www.golf-olomouc.cz), while the Moravian Theatre and the Moravian Philharmonic in Olomouc offer a rich programme for the more culturally inclined. The city also has several shopping centres, including Haná (www.oc-hana.cz), Olomouc City and Olympia-Olomouc (www.olympiaolomouc.cz), as well as a modern multiplex cinema, CineStar Olomouc (www.cinestar.cz).

Attached files
| Description | Type | Size | Date |
| --- | --- | --- | --- |
| | | 549.82 kB | 28 Apr. 2017 |