Liberec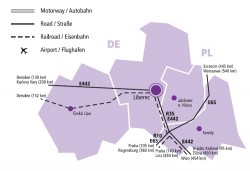 Location
The Liberec region is located in northern Bohemia along the borders with Poland and Germany. A large percentage of the population is concentrated in towns, particularly the Liberec-Jablonec agglomeration. The administrative centre is Liberec with a population slightly under 100,000. Many institutions, including universities and exhibition grounds operate there. Other regional centres include Jablonec nad Nisou, Česká Lípa, Semily, Turnov and Nový Bor.
Investment climate
The regional economy is built on a solid industrial tradition and is oriented toward the manufacturing industry and services. The glass-making industry, which flourishes despite being an old-fashioned craft, enjoys a worldwide reputation. The textile industry has a long tradition, while the automotive and electrical engineering industries are currently expanding, which is due mainly to the entry of foreign firms into the region. The machine-tools industry also holds great potential. New business opportunities are opening up in industrial zones accommodating mostly automotive firms. There are plans to prepare industrial zones in Liberec and Hrádek nad Nisou as well as on former military sites in Mladá and Ralsko; the technology park of VÚTS//the Technical University in Liberec will also surely be of great interest in years to come. Many firms in the region associate in clusters, such as CLUTEX, a technical textiles cluster, and the Czech Glass Cluster.
Education, research, development
Clusters and other industrial activities require a scientific background, which is ensured by the region's highly specialized institutions of learning. The most significant of these is the Technical University of Liberec, the only university in the country with a faculty specialising in the textile industry. The university participates in various R&D projects, cooperates with the Research Institute of Textile Machines and takes part in the establishment of clusters. The university hosts the Textile II research centre, which develops new technologies and machines. The Liberec region is attractive to investors not only for its rich industrial experience, R&D
institutes and qualified professionals, but also thanks to easy transport accessibility, a favourable geographical position, low labour costs and unoccupied areas in the borderland. Numerous areas with ecological limits on industry offer favourable conditions for tourism.
Leisure time and tourism
The Liberec region is very rich in terms of leisure facilities. The Krkonoše and Jizera Mountains are crisscrossed by hiking, cycling and cross-country skiing trails with outstanding tourist amenities. Modern ski centres cater to many kinds of skiers and host international ski competitions. There are great opportunities for lovers of golf, football, go-carts, climbing, windsurfing and rafting - activities suitable for teambuilding events. Tourists can relax while bathing in water parks and spas, listening to the pure voices of choirs and daydreaming at castles. The local landscape is particularly alluring with its unique rock formations - basalt columns or "rock towns" in Český ráj, which may also be viewed from the vantage point of sightseeing flights.
Attached files
| Description | Type | Size | Date |
| --- | --- | --- | --- |
| | | 582.64 kB | 28 Apr. 2017 |