Karlovy Vary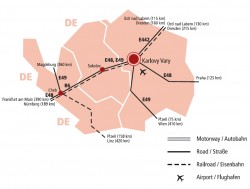 Location
The Karlovy Vary region is located in the westernmost corner of the Czech Republic and borders Germany. The region has gained a worldwide reputation for its spas, which are concentrated in the towns of Karlovy Vary (Carlsbad), Mariánské Lázně and Františkovy Lázně. Sokolov, Cheb, Ostrov nad Ohří, Aš and Chodov are significant centres of industry.
Investment climate
The economy of the Karlovy Vary region is based on natural resources and the spa industry.
The region has a tradition of logging and mining lignite, ceramic clay, kaolin. The discovery of mineral water gave new life to the region's baths. The locally-produced natural materials are utilized in the production of the famous Carlsbad porcelain, the popular Becher liqueur, in musical instruments and have enabled the construction of heating and power plants and development of the chemical industry.
After the Velvet Revolution many foreign firms entered the spa industry, while others began production in industrial zones oriented towards the automotive and chemical industries. Nor are traditional fields of industry behind the times, taking advantage of new opportunities for trade and development presented by clusters, such as Music Czech Made (producers of musical instruments).
Leisure time and tourism
The Karlovy Vary region features beautiful landscapes with mountains, forests and mineral springs. Medieval castles, townhouses and Art Nouveau colonnades create a historical atmosphere. Spa towns offer treatment procedures and a rich cultural life. Numerous prestigious festivals and events are held here, the most famous being the Karlovy Vary International Film Festival. Due to this and leisure activities, congress tourism flourishes here. The region offers quality facilities for tennis and bowling, and the golf courses in Mariánské Lázně and Karlovy Vary are among the best in the country. The region offers many possibilities for cycling, hiking, water sports and skiing.

Attached files
| Description | Type | Size | Date |
| --- | --- | --- | --- |
| | | 540.92 kB | 28 Apr. 2017 |