Central Bohemia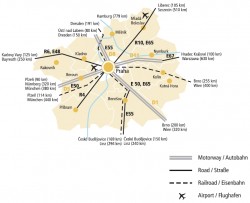 Location
The Central Bohemia region surrounds the capital of Prague. It is a metropolitan background for the capital, with high rates of immigration and population growth. The region's biggest town is Kladno, followed by Mladá Boleslav, Příbram, Kolín and Kutná Hora.
Investment climate
Central Bohemia has a diverse economy with an industrial-agricultural character. The branches of the primary sector that have most influenced the face of the region are coal mining in the Kladno area and the production of cereals, fruits and flowers, creating a "granary" for the capital. The most prominent branch of the secondary sector is represented by the automotive industry, bringing great profit not only to the region but the entire country, followed by metallurgy, engineering, chemicals and power engineering, involving hydro-electric generators on the Vltava River.
If the dense road network and traffic are taken into account, even the tertiary sector plays an important role. The region's economic development is dynamic, making it one of the most prosperous regions in the Czech Republic. Local economic conditions have attracted renowned foreign companies oriented toward the automotive industry, electrical engineering and warehousing. The region has prepared industrial zones for new investors and is developing science and technology parks with business incubators. Local firms tend to associate in clusters, e.g. BIOplast, and there are prospects for establishing others in the automotive and food industries.
Leisure and tourism
Central Bohemia, with its rich sporting and cultural heritage, offers a broad range of leisure activities. Hiking and cycling routes lead through picturesque valleys, cross-country skiing tracks climb up to the ridges of the Brdy Hills, and golf courses are in plentiful supply. In any of the region's mid-sized town one can find a swimming pool, sport centres, cinemas and theatres.
Kladno has a museum of mining and hosts hockey matches; Mělník is specialized in rowing and equestrianism; and Mladá Boleslav hosts horse racing. However, the most visited locations are Kutná Hora, whose historical centre is a UNESCO World Heritage site, the spa town of Poděbrady and the famous Karlštejn Castle and Koněprusy Caves.

Attached files
| Description | Type | Size | Date |
| --- | --- | --- | --- |
| | | 519.75 kB | 28 Apr. 2017 |