Phases of Company Development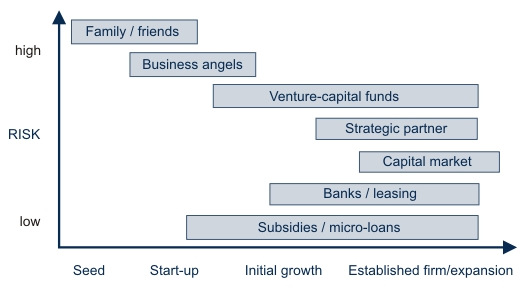 Seed
Early phase of the company's life-cycle, when the entrepreneur has a basic concept of the product and business plan. Generally at the level of research and development, into which the predominant part of financial resources is directed.
Start-up
This concerns an established or only recently founded company which, however, has not begun commercial sale of its products or services and has no profit. Financing is connected with commercialisation of the product developed in the preceding phase.
Initial growth
In this phase, the company is already producing its product, has established relationships with its partners (trade and financial) and defined its own place on the market.  Financing of the company is oriented particularly toward ensuring the company's operation and covering initial investments that the firm undertook following the start-up phase.
Expansion
The growth phase of the life-cycle of an existing firm which has prepared a new product representing a significant change in its offer. Financing in this phase is focused on the expansion and growth of the company; it is possible to finance growth of production capacities, development of new products/services or financing of working capital.